India International Jewellery Show
03-06 Feb 2017  Bombay Convention & Exhibition Centre, Mumbai, India
Medical Design & Manufacturing West
07-09 Feb 2017 Anaheim Convention Center, Anaheim, USA
Medical Design & Manufacturing West, will bring along with it the latest in cutting edge technology and products including, 3D printing, new battery tech and all the latest in progressive materials used in the medical industry.  This event promises to be huge, with people attending from all over the world, for what will be a medical revolution.  Don't miss your chance to attend the world's largest med tech event!
Miami International Boat Show & Strictly Sail
16-20 Feb 2017. Miami Marine Stadium Park & Basin, Miami, USA
This event is a five day fiesta of beautiful boats and the boating and yachting lifestyle.  A wide array of yachts from small to the super, to satisfy every taste including sailboats, powerboats, cruise liners and of course yachts.  There will be on the water boating workshops daily seminars and talks about all the fun and wonderful things about yachting life and life on the water.
Closed and open air exhibit space will be allocated, showing marine accessories, nautical services and gifts, electronics and apparel.  Everyone who is involved in this area in the business services, marine and boat industries will be here to enjoy a wonderful time.
Sourcing at Magic
20-23 Feb 2017  Las Vegas Convention Center, Las Vegas, USA
If you're in the business of fashion then you must be at the 'Sourcing at Magic' event being held along side of Magic Las Vegas.  They both take place pretty much on the same days as each other in Feb 2017, and what better place to be holding this wonderful show but in the midst of all the lights, glitz and glamour of Las Vegas.  If you need to network and make your fashion business better, then join the ones who do at this magnificent show.
Magic Las Vegas
21-23 Feb 2017 - Las Vegas Convention Center, Las Vegas, USA
Magic Las Vegas is a 3 day event and is the largest marketplace, comprising of 14 unique communities showcasing the latest in apparel, footwear, accessories, and manufacturing. Magic is at the forefront of the fashion and apparel industry.
Save
Save
Save
MIDO Eyewear Show
25-27 Feb - Milano, Milan, Italy
Keep your eyes open for this amazing event in Milan, Italy.  Dedicated to the eyewear sector.
Thousands in the industry will flock here to see what is on offer.  Whether they are producers, distributors, agents, representatives or exclusive retailers.
Gulf Food Show
26 Feb-2 Mar - Dubai World Trade Centre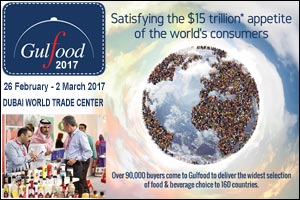 This is the show to be if you are in the food industry for sure.
Dubai hosts the world's largest annual food event, over 5000 suppliers from 5 continents will be taking part here.  this will offer your business a platform and a greater chance to expand and evolve your industry.
Save